ASUSTEk Computers DRW-2014L1T BurnQuality test

日本語ページ / English page

Page.1 / Page.2


Feature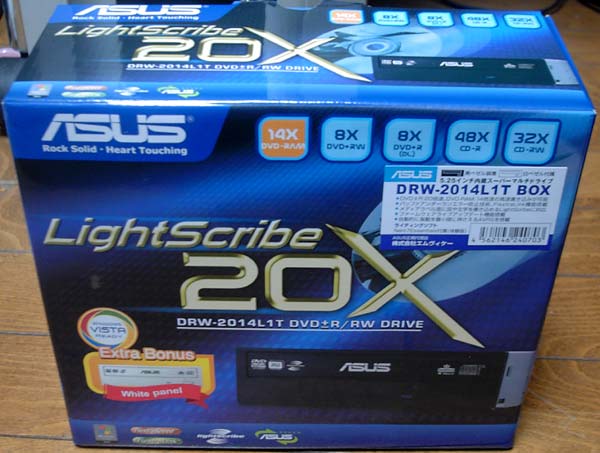 Model
DRW-2014L1T
Seller
ASUS
release date
12.Oct.2007
Price
5280 JPY
-
Retail BOX
Features
| | |
| --- | --- |
| Manufacturer name | ASUS |
| Drive name | DRW-2014L1T |
| Initial Firmware | 1.00 |
| Drive buffer | 2MB |
| PIO/DMA mode | SATA1 |
| Main Chip | MediaTek MT1899LE |
| Country of origin | made in China |
| Power consumption | 5V = 1.2A / 12V = 1.5A |
| QualityScan Function | PIE/POE |
| Maximum DVD write speed | 20X |
| Maximum DVD DL write speed | 8X |
| Maximum DVD RW write speed | 8X(6X) |
| Maximum DVD-ROM read speed | 8X |
| Maximum DVD-R read speed | 12X |
| Maximum DVD DL read speed | 12X |
| Maximum DVD(with CSS) read speed | max speed(no limit) |
| Maximum CD write speed | 48X |
| Maximum CDRW write speed | 32X |
| Maximum CD read speed | 48X |
| Overburn DVD+R | not support. |
| aximum DVD-RAM(2x-3x) read speed | 5x CLV |
| aximum DVD-RAM(5x) read speed | 5x CLV |
| Bitsetting DVD+R | available. |
| Bitsetting DVD+RW | available. |
| Bitsetting DVD+R DL | available. |
| recording time for DVD-R | about 5:00. |
| software | Nero 7 Essentials |
Write speed & behavior
20x DVD-R
8.4x-20.4x CAV(20x) / 6.7x-16.0x CAV(16x)
5.2x-12x P-CAV(12x) / 5.2x-10x P-CAV(10x)
5.2x-8x CAV(8x) / 4x CLV
20x DVD+R
8.4x-20.4x CAV(20x) / 6.7x-16.0x CAV(16x)
5.2x-12x P-CAV(12x) / 5.2x-10x P-CAV(10x)
5.2x-8x CAV(8x) / 4x CLV
16x DVD-R
6.7x-16.0x CAV(16x) / 5.2x-12x P-CAV(12x)
5.2x-10x P-CAV(10x) / 5.2x-8x CAV(8x) / 4x CLV
16x DVD+R
6.7x-16.0x CAV(16x) / 5.2x-12x P-CAV(12x)
5.2x-10x P-CAV(10x) / 5.2x-8x CAV(8x) / 4x CLV
8x DVD-R
5.2x-8x CAV(8x) / 4x CLV
8x DVD+R
5.2x-8x CAV(8x) / 4x CLV
4x DVD-R
4x CLV
4x DVD+R
4x CLV
1x DVD-R
2x CLV
2.4x DVD+R
2.4x CLV
6x DVD-RW
4x-6x Z-CLV / 4x CLV
4x DVD-RW
4x CLV / 2x CLV
2x DVD-RW
2x CLV
8x DVD+RW
6x-8x Z-CLV / 6x CLV / 4x CLV
4x DVD+RW
4x CLV / 2.4x CLV
2.4x DVD+RW
2.4x CLV
8x DVD+R DL
4x-6x-8x ZCLV(8x) / 4x-6x ZCLV(6x)
4x CLV
2.4x DVD+R DL
2.4x CLV
8x DVD-R DL
4x-6x-8x ZCLV(8x) / 4x-6x ZCLV(6x)
4x CLV
4x DVD-R DL
4x CLV / 2x CLV
Drive Information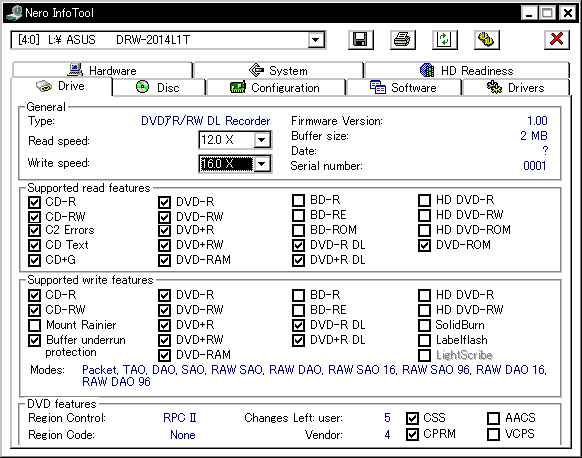 Others

 DRW-1814BLT is 795g(1.75lb), DRW-2014L1T is 695g(1.53lb).



DVD-R outer area spike@16X writing problem was Fixed
DRW-2014L1T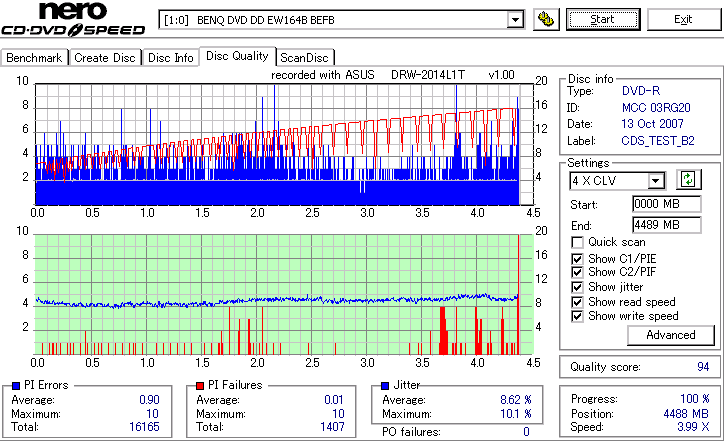 DRW-1814BLT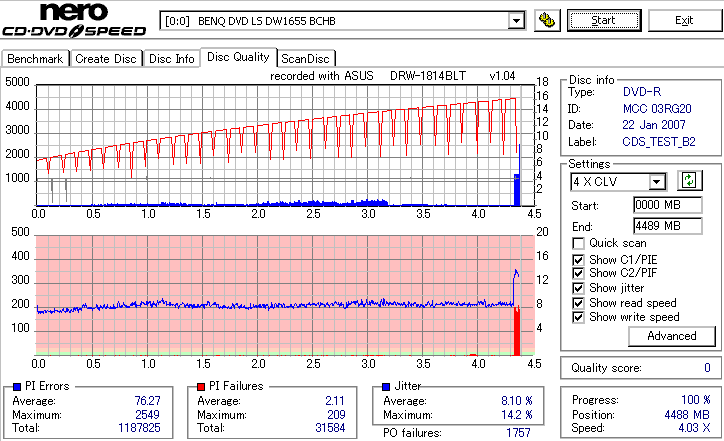 18X speed writing is not available.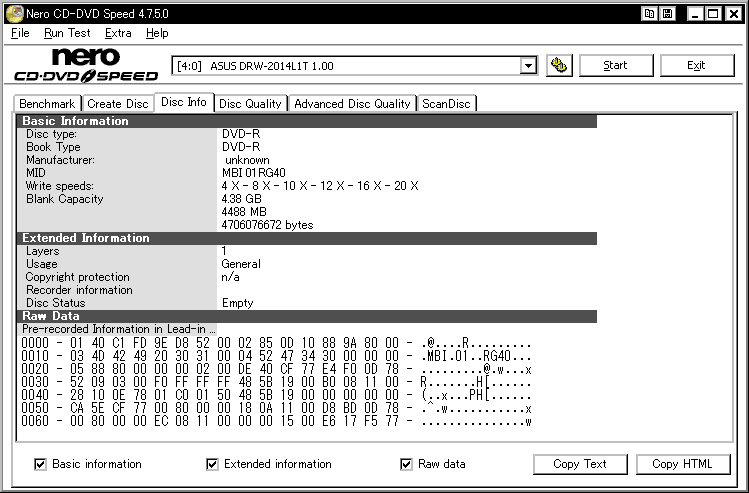 10x, 12x ,16x, and next is ......20x. no 18x speed setting.

Externals and Chipset.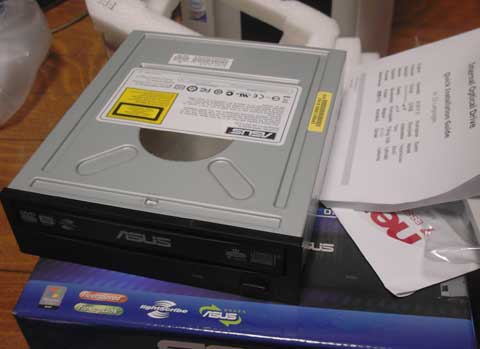 Multi-language manual and spare white bezel are bundled.
Nero 7 essentials software supports windows vista.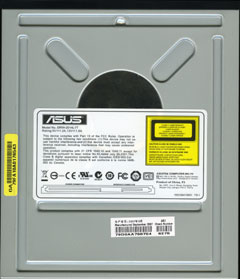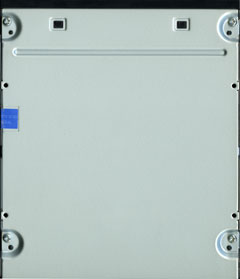 external design was changed greatly. click left image to enlarge label.
manufacture date is september.2007. made in china.






bezel design was changed too.


DRW-2014L1T / DRW-1814BLT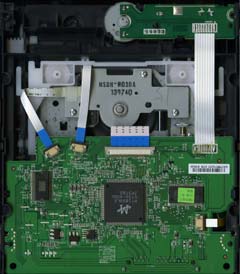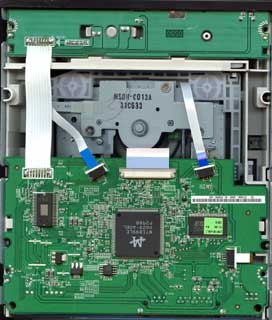 internal main board. left image is DRW-2014L1T, and right is DRW-1814BLT. click to enlarge.
chipset is legacy mediatek MT1899LE. not newer 1858L.
though there are small changes, the design looks like 1814BLT very much.